REGISTER NOW
SUMMER SCHOOL
A learning opportunity promoted by the FAO Fisheries Department Regional Projects, GFCM and the European Commission Joint Research Center to keep scientist up to date with new methods and tools for the assessment of stocks.
The summer school will run from 9 – 21 July 2018 and take place in Institute for Marine and Coastal Environment (IAMC-CNR) in Capo Granitola, Sicily (Italy). The school is intended for fisheries scientists engaged in stock assessment within fisheries departments, research institutes and non-governmental organizations in the Mediterranean and Black Sea, as well as to young scientists seeking specialization in applied quantitative methods for natural resources management.
22-23 March 2018, FAO-HQs, Italy
AdriaMed meeting in support of fisheries Management Strategy Evaluation (MSE)
The AdriaMed technical meeting towards the development of management measures (MSE) in the Adriatic Sea will be held at FAO HQ, Rome, 22-23 March 2018. Fisheries scientists, national administrations and...
representatives of fishers involved in small pelagic fisheries in the Adriatic Sea will participate in the meeting. The overall objective of the meeting is to foster the discussion on possible management scenario and harvest control rules to be tested by Management Strategies Evaluation (MSE) models within the framework of the GFCM management plan on small pelagics in the Adriatic Sea (GFCM Rec. 37/2013/1; 38/2014/1;39/2015/1 and GFCM/40/2016/3)..
22-23 February 2018. FAO-HQs, Italy
AdriaMed Study Group on Jabuka/Pomo Pit and on spatial fisheries analysis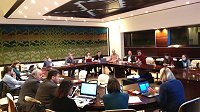 The meeting was attended by representatives of the Fisheries Administrations and Fisheries Research Institutions from Croatia and Italy, by a representative of the GFCM Secretariat, representatives of MedReact,...
MEDAC and fishers and by the AdriaMed Project staff. The SG-JP was meant to foster the informal debate among scientists, administrations and stakeholders in order to have specific inputs for future management strategies in the area. The SG-JP was aimed at facilitating: i) the coordination of the scientific activities of monitoring demersal resources in the area as surveys at sea; ii) the debate on monitoring issues regarding fishing activities; iii) the coordination of stock assessment activities on hake (Merluccius merluccius) and Norway lobster (Nephrops norvegicus). A short term workplan was agreed upon. The outcomes of this SG-JP shall be presented at the next GFCM SubRegional Coordination meeting for the Adriatic Sea (April 2018).